Connecting people and spaces
Interface offers the hospitality industry a simple, elegant solution: an environmentally responsible and holistically designed flooring system. Across the Americas, our innovative designs connect people and spaces — and deepen the guest's relationship with the hotel brand.
Earning the trust of our customers is something we take seriously. We have partnered with the following brands to develop approved standards that meet each brand's promise to their guests. And do so on Interface's Carbon Neutral Floors™.
Explore our approved brand prototypes below, and reach out to a sales rep today to find the best solution for your projects.
Connect the world through the power of hospitality. Ranging from limited service to full-service hotels in the upscale, midscale, extended-stay and economy segments, Choice-branded properties provide business and leisure travelers with a range of high-quality, high-value lodging options throughout the United States and internationally. Explore our Choice Hotels approved prototypes below.
The Motel 6 story began in response to a simple, yet unmet need: consistently affordable, comfortable lodging. Motel 6 continues to innovate, evolve and improve. Across the country, they've introduced a fresh new look through renovations and new construction. They've unveiled new design prototypes to owners to ensure their properties are familiar and classic, yet with contemporary features, that guests appreciate. Explore our G6 Hospitality approved prototypes below.
With more than 570 properties across six continents, Hilton remains synonymous with the word "hotel." From inaugural balls and Hollywood award galas to business events and days to remember, Hilton is where the world makes history. Explore our Hilton Hotels & Resorts prototypes below.
InterContinental Hotels Group
InterContinental Hotels Group is committed to delivering True Hospitality for everyone. Each of the IHG hotel brands caters to guests in their own distinct way. Whether it's an overnight getaway, a business trip, a family celebration or a once-in-a-lifetime experience, IHG has more than 5,000 properties in nearly 100 countries, offering the perfect hotel for every need. Explore our IHG approved prototypes below.
Offering the most powerful portfolio in the industry, Marriott's 30 brands and 7,000+ properties across 131 countries and territories gives people more ways to connect, experience and expand their world. Marriott's social responsibility platform – Serve 360: Doing Good in Every Direction – is guided by their 2025 sustainability and social impact goals, as well as the UN Sustainable Development Goals. Marriott International commits to creating positive and sustainable impact wherever they do business. Explore our Marriott Hotels & Resorts MSAP results and prototypes below.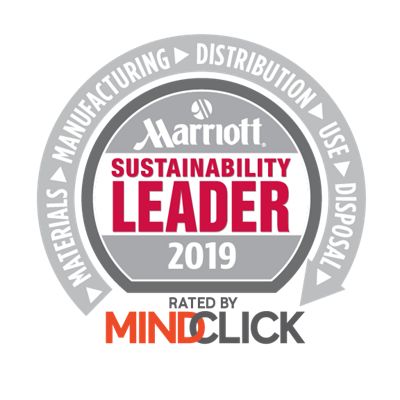 Red Roof Inn is an award-winning leader in the lodging industry recognized for creating the innovative Upscale Economy segment. Its franchises, corporate-managed, and corporate-owned properties serve millions of guests each year. Whether business or leisure, short trips or extended stays, in the hearts of cities or on the road, Red Roof has a property for every traveler. Explore our Red Roof Inn prototype below.
Wyndham is the world's largest and most diverse hotel company, encompassing more than 9,000 hotels across 20 brands in 80+ countries. Their portfolio includes a wide range of properties with comfortable accommodations and modern amenities to suit the needs of every traveler with a simple loyalty program. Through numerous sustainability initiatives, Wyndham takes steps every day to minimize the impact of their operations, working to reduce their environmental footprint and preserve natural resources. Explore our Wyndham Hotel & Resorts prototype below.