Interface began in 1973, when Ray C. Anderson discovered a need for flexible flooring. To make it happen, Ray led a joint venture with Carpets International Plc. (CI), a British company, and a group of American investors to produce and market modular carpet. This original team of 15 faced significant challenges from sharply rising petrochemical costs, a key raw material in the carpet industry. CI's advanced cutting and bonding technology sustained the company and enabled it to meet the needs of the office building boom of the mid-1970s.
Modular carpet tiles grew in popularity and by 1978 Interface sales had reached $11 million, growing to $80 million when the company went public in 1983 (NASDAQ: TILE). In 1982, Ray changed the name of the company to Interface Flooring Systems, Inc. The company took on its current name, Interface, Inc., in 1987.
Over the years, we expanded into international markets through acquisition, and in 1988, became the world's largest carpet tile manufacturer with the acquisition of Heuga B.V. Also in that year, we introduced Quantum - the first tufted loop carpet tile, altering the course of our business and our design capabilities. Since then, Interface has acquired more than 50 companies, become a $1 billion business, entered the residential market with FLOR, expanded into hard surface, and cemented its position as a leader in sustainable business.
For decades, Interface has been known as a revolutionary company offering products that promote sustainability and wellness. This transformation commenced in the mid-90s, when Ray was challenged by a customer to think about the environmental effects of Interface's manufacturing and production. In 1999, Interface and Ray began to receive recognition for this new thinking when he wrote a book called Mid-Course Correction. The book detailed his awakening to environmental concerns -- what he described as his "spear in the chest moment" -- and outlined a model for businesses to achieve sustainability.
In 2006, Interface launched Mission Zero®, declaring to eliminate any negative environmental impact the company had by 2020. Ray continued to drive Interface's sustainability mission until his cancer diagnosis in 2010. At that point, Dan Hendrix, who served as CEO from 2001 to 2017, took full leadership of Interface. Ray passed away in 2011, but he left his teachings as a compass for the Interface brand and mission.
In early 2017, then president and COO Jay Gould took over the helm as only the third CEO in the company's history.. Jay has partnered with Chief Sustainability Officer Erin Meezan, the global leadership team, and many of the members of Interface's original Eco Dream Team to drive forward our new mission to address global warming: Climate Take Back.

Sustainability-Driven Innovation
The strive to create a more sustainable business led us to innovate in all areas of manufacturing and product. The TacTiles® glue-free installation system, a world-first, was designed as a cleaner, faster, earth-friendly alternative to traditional carpet adhesives. The product's environmental footprint is more than 90% lower than traditional flooring adhesives.
Interface looked to nature to design a more sustainable carpet tile system. We developed our i2® line of products by asking how nature designs a floor. Within i2, each carpet tile varies in pattern and color within one style and colorway, and most are designed to be installed in any order and orientation. This results in a cohesive floor design, regardless of when tiles were purchased or installed, and requires less installation time, produces nearly 90% less waste than traditional broadloom carpet, and offers easy reclamation and recycling.
Through our closed loop manufacturing processes, we've reduced the carbon footprint of our product by more than 50% since 1994, but we know that's not enough. So in 2017, we launched the world's first carbon negative prototype carpet tile, Proof Positive.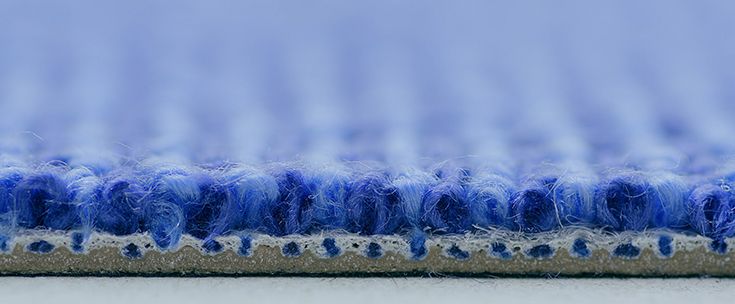 And while we continue to work tirelessly to create products that are helpful, not harmful, we know we aren't perfect, and for now, our processes still emit carbon. Our Cool Floor™ program offsets the greenhouse gas emissions for the entire product life cycle. We're the only manufacturer to do this across the majority of our global portfolio.
The New Modular System
In 2017, Interface expanded into modular resilient flooring, allowing customers to choose from a fully integrated collection of hard and soft tiles that seamlessly fit together in Interface's modular design system. Our tiles are produced with a controlled material stream to ensure that they can be recycled at end of life through our ReEntry® recycling program. These recycled materials will ultimately feed into recycled content backing, including Interface's GlasBac®RE recycled backing product.
Interface continues to be one of the world's most innovative and inspirational companies, with a commitment to design and sustainability. We are the only company to be named on Globescan and SustainAbility's Sustainability Leaders Survey rankings for 20 consecutive years. Headquartered in Atlanta, Interface is a $1 billion company with approximately 3,500 passionate and dedicated employees around the world. Our planet-first manufacturing facilities are located across four continents. This global presence allows us to be the local choice across world markets.
For additional information, visit our blog and follow us on LinkedIn, Twitter, Facebook, Instagram, Pinterest, and YouTube.