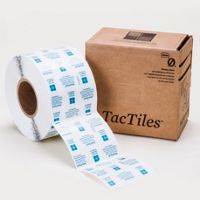 TacTiles
We recommend TacTiles connectors for GlasBac®, GlasBacRE, Graphlar® and Graphlex backing systems. These revolutionary, glue-free adhesive squares adhere tiles to one another and create a "floating" floor. There are no liquid components, so VOCs are virtually eliminated and there is no odour. TacTiles connectors let you install carpet almost anywhere, any time.
Use: Interface GlasBac, GlasBacRE, Graphlar and Graphlex
Spread Rates: "Full Spread" install (every corner): 125 sy/roll (500 TacTiles per roll) depending on tile size and installation method used.