The Future: What to do about it
---
Unfortunately, registration to our evening talks have now closed.
If you have any queries, please contact your local account manager.
---
Wednesday 24th May 2017
7pm - 9pm (doors open at 6pm)
Host: Oliver Heath, Architect, Interior Designer and Biophilic Expert
Panelists:
Mark Stevenson – Author, businessman and public speaker
Nigel Stansfield – President, EMEA – Interface
Carl Wolf – VP, Europe – Lanzatech
Julie Hirigoyen – Chief Executive – UK Green Building Council
An incredible line-up of experts talk us through how we need to completely rethink our systems and processes for survival in tomorrow's world. Take a deep dive into the future – this is not fiction, it's not a hypothesis – it's about the questions the future is asking today and how to approach them with ambition and optimism.
Follow our talks on Twitter @InterfaceInc
Host
Oliver Heath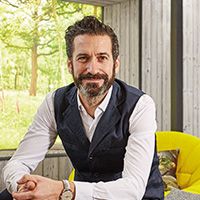 Oliver is Founder of Heath Design Ltd, an architectural and interior design practice combining three key strands: sustainable design, consumer engagement and communications to inspire the uptake of future thinking in the built environment. He stimulates the adoption of happier, healthier places to live and work through his projects as designer, writer, and TV presenter.
As an experienced presenter Oliver works on many television shows such as BBC Changing Rooms and DIY SOS, along with Norways TV2 Tid For Hjim. Acting frequently as a media spokesperson for the UK's Department for Energy and Climate Change (DECC), WRAP and the Energy Saving Trust.
Design clients include Bio Regional, ING Real Estate and Barratt Homes and the Geffrye Museum, as well as products for John Lewis, Pilkington Glass and Earthborn paints. Oliver is the author of 3 books, most recently Urban Eco Chic (Quadrille), as well as writing regularly for the Guardian, Grand Designs magazine, and Real Homes. He is passionate about sustainable design and is a biophilic design ambassador for Interface flooring, creating human centred spaces to improve health and well being.
Speakers
Mark Stevenson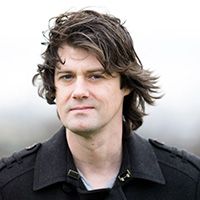 Mark Stevenson is an author, reluctant futurologist, occasional comedy writer and founder of The League of Pragmatic Optimist. He spends his life at the cutting edge of change trying to help create a future that's more sustainable, compassionate, humane and just – working with everyone from governments to school children.
Drawing on his best sellers We Do Things Differently and An Optimist's Tour or the Future he'll put our intertwined technological, social, political, environmental and economic revolutions/crises in context and explore the questions the future is asking us.
The London Literary Festival described him as "one of those rare visionaries who fascinates an audience and makes them laugh in equal measure". TED called him as a man who "wears no blindfold and whose tools are curiosity, open-mindedness, clarity and reason, making his journeys to the future intriguing and ultimately exhilarating", while the Leicester Mercury called him 'surprisingly tall'.

markstevenson.org
@Optimistontour
Nigel Stansfield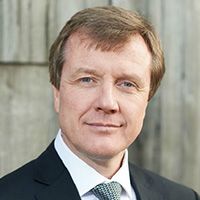 Nigel Stansfield is President at Interface for Europe, Middle East and Africa.
In his role, Nigel is responsible for setting and leading the company's growth strategy throughout the EMEA region. This includes driving growth in the core carpet tile business, while also bringing new offerings to market and delivering supply chain efficiencies. He is also spearheading the Interface Mission Zero and more recent Climate Take Back mission focused on reversing global warming and creating a positive impact on the environment.
Nigel was instrumental in developing Net-Works, a unique global business and conservation partnership between Interface and the Zoological Society of London (ZSL). Net-Works tackles the global environmental impact of discarded fishing nets, while providing socio-economic benefits for the developing world's coastal communities.
Nigel has over 30 years' experience as a textile technologist, and is an expert in yarn, carpet and carpet manufacturing.
Carl Wolf
Carl joined LanzaTech in 2011 and has worked in various roles within the company.
Now based in London, Carl leads LanzaTech's European activities, including existing collaborations, new business development, and government relations.
Prior to LanzaTech, Carl was a consultant at BCS, Incorporated, where he worked with environmental and energy sector clients, including the US Department of Energy's International and Biotechnologies Office's.
Julie Hirigoyen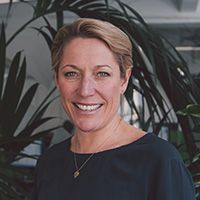 Julie was appointed CEO of UK-GBC in April 2015. She has ultimate responsibility for organisational strategy and delivery. She is accountable to the Chairman and Board of Trustees for UK-GBC's impact and performance and leads the team on a day to day basis.
Julie is focused on delivering lasting change within the industry by engaging with UK-GBC members, regulators, and wider stakeholders in a collaborative way. Julie was previously UK Head of Sustainability and an International Director at JLL, having come into JLL as a result of an acquisition. JLL acquired Upstream, a leading sustainability consultancy which Julie was co-founder and Joint MD of, in 2007. Having led the Upstream team through the integration into JLL, Julie oversaw further development of cutting-edge sustainability services to property investors and occupiers across the UK and EMEA.
Julie sits on the Green Construction Board, the Igloo Sustainable Investment Advisory Committee, the ULI UK Sustainability Council Steering Committee, the Carbon Trust Advisory Panel and the Carillion Sustainability Committee. She also chaired the British Property Federation's Sustainability Committee for two years.